T10 Thinkable Table
(2021)
280 x 100 x 75 cm
plywood, elastic rope, fishing wire lead, marble, floor cloth
part of a body of works produced for the exhibition
Blink
shown at
Valletta Contemporary


This work forms part of Home is the New Travel, a body of works produced for the exhibition Blink that re-uses parts of a furniture line I produced for a manufacturer in combination with objects and materials found around our homes. The works float between the 'original character' of the furniture and objects and possible new identities, between the usual functional expectations they evoke, and unexpected possibilities, between useful and usefulness, between the abstract and the figurative.

What happens if we set free the usual functions, rhythms, habits, and necessities prompted by our objects at home? Can we let these go in favour of new experiences, or new mixtures where intuition and rationality can work together instead of being opposites?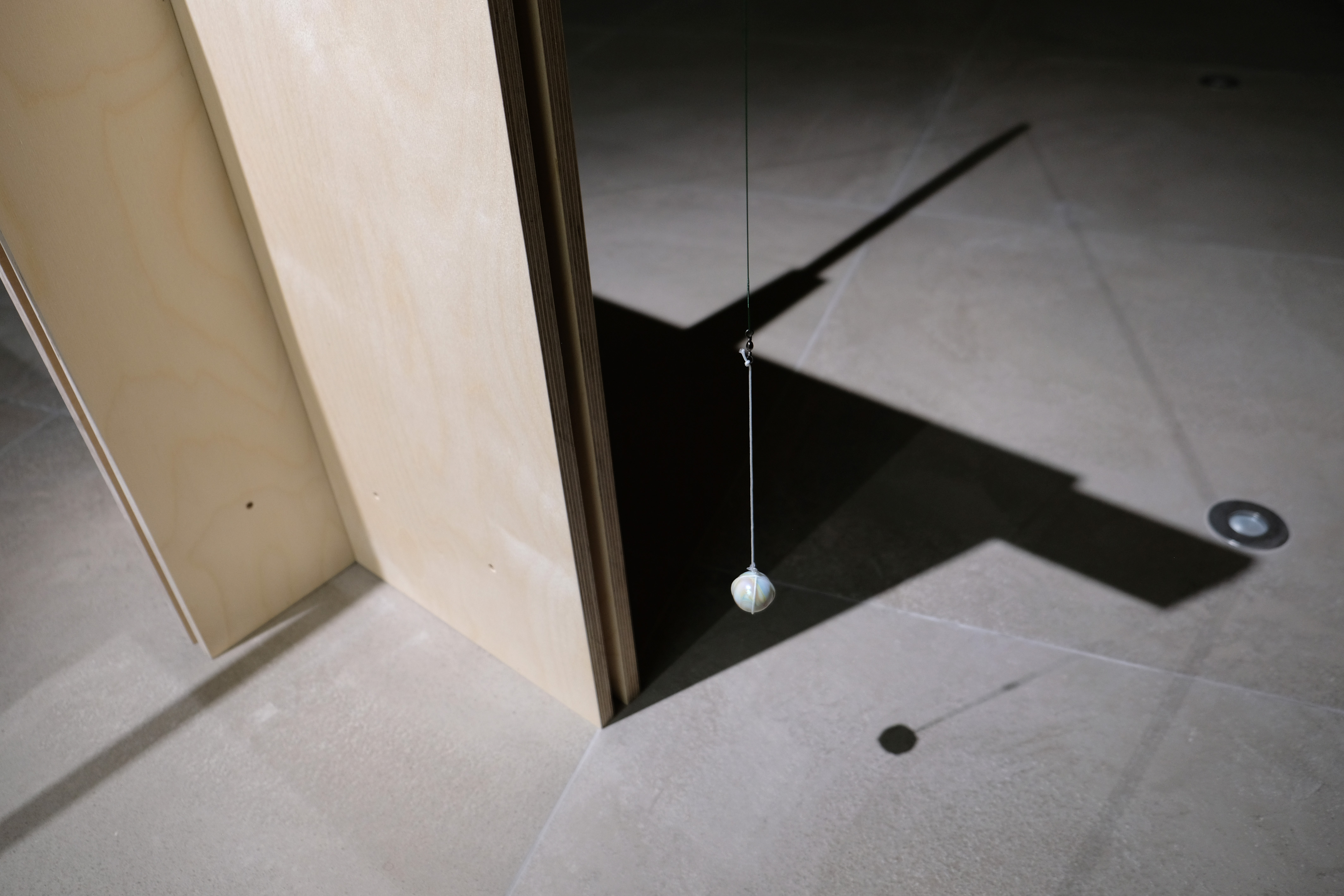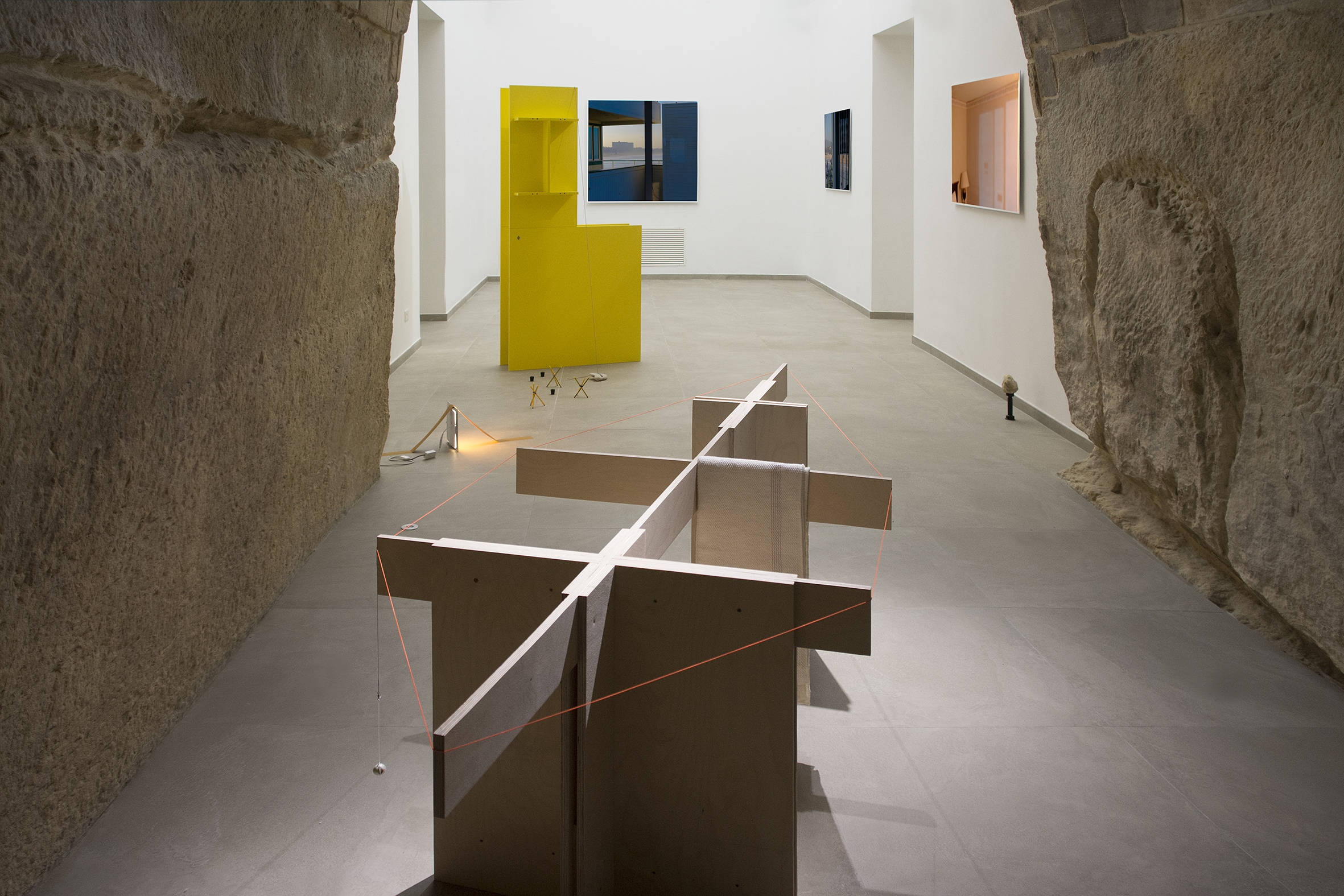 HOME IS THE NEW TRAVEL
(furniture's spokesperson letter accompanying the body of works)
Circumstances, which we decided not to mention here, forced you to spend a lot of time at home. The place you previously took as a point of departure, now also became your destination. Travel budgets became unexpected bonuses and many of you exchanged these for plants, furniture, finishes and furnishings. One could argue that home became the new travel.
The furniture would like you to know that it is very charmed by your increased interest and attention, to say the least. It would also like to declare that it is – as much as yourself and the artist's work – in constant motion, with its existence and meaning changing according to time, location, events and other stuff going way beyond your human-centric concerns.
Your philosophers proclaim that furniture is some sort of mediator and adds a lot of meaning and symbolic associations to your life. That the interior becomes a place only when it is furnished. Even things like "The table itself doesn't speak, it is pure expectation" are being said. Well, today, the furniture would like to speak up.
Don't get me wrong, the furniture is pleased that through its use people are able to experience their environment as meaningful. But please understand that it feels like their reality has been reduced to what it can do for you. Hence, it would like to express: don't ask what your furniture can do for you but ask yourself what you can do for your furniture!
It therefore proposes to form a pact and be recognised as an active partner in your homes, in making it a complex universe of overlapping cultural references, daily rituals, practical needs, unspoken desires and aspirations in perpetual evolution that converge in architectural space.
And there is no need to become upset, nor to get all too seriously about this request. Just loosen up a bit and touch the poetic quality, humour, versatility and ambiguity of your furniture. Dare to go beyond the fixed notions you might attribute to it. Chill and explore how your so called functional objects can undergo a process of mutation and develop split personalities. Let's query those fabricated boundaries between figuration and abstraction, between rationality and intuition, between a strict minimalism and a sense of narrative!
After all….Home is the new Travel.
All the best,
photo credits:
Norbert Attard
,
Nigel Baldacchino
&
Tom
Van Malderen
related works:
Home is the new Travel
/
T1 Downward Facing Desks
/
T2 Table Service
/
T3 No more Wiping
/
T4 What's in a Blanket
/
T5 a Minimum of Control
/
T6 Coffee Tables going up
/
T7 Watch your Feet
/
T8 Square Tight Light
/
T9 Stones on Thrones
/
T11 The Bench Pile
/
T12 No more Licking
/
T13 Blue and Contained
/
T14 Floating Shelves